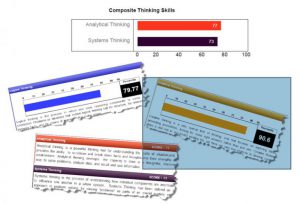 Thinking skills test (TST) is a powerful tool to measure both proverbial 'left-brain' and 'right-brain' functioning, which form the basis of superior performance.
TST evaluates thinking and reasoning capacity of the candidate with reference to 4 distinct type of thinking skills viz. Logical Thinking, Critical Thinking, Creative Thinking and Strategic Thinking. This test also provides assessment of candidate`s Analytical Thinking and Systems Thinking abilities.
Thinking skills test measures four core thinking skills:
1. Logical Thinking
2. Critical Thinking
3. Creative Thinking
4. Strategic Thinking
and two composite thinking competencies
1. Analytical Thinking
2. Systems Thinking
Quick facts about Thinking Skills Test
TST is designed to measure thinking skills which are crucial for success in studies and at work. A person`s unique talent is shaped by a combination of two or more thinking skills . TST provides a reliable assessment on how competent the candidate is likely to be in the following tasks:
understanding the logical connections between ideas.
identify, construct and evaluate arguments.
deciding on funding levels for a re-search project.
establish future strategies for the firm.
detect inconsistencies and common mistakes in reasoning.
Accurate assessment of thinking skills using TST enables the teachers, trainers, and coaches to design specific developmental intervention to increase the level of thinking skills in the desired area and get the superior performance delivered.
Get a demo of this test
Subscribe for a free trial of this test to talk to one of our consultants about this test and see how this test can help you in your objectives.
Get a demo