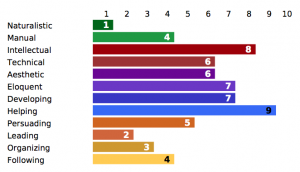 OII-Pro is a career guidance tool measuring 12 dimensions of occupational interest. It is based on John Holland`s theory of vocational choices and provides assessment on RIASEC model as well. The test is developed after years of research and working closely with career counsellors. This test provides much detailed and deeper information about career interest of the candidate as it measures 12 dimensions (in comparison to 6 dimensions measured by most career guidance tools). After assessment, the candidate`s profile is compared with 400+ job clusters and 30+ industries to arrive at the list of most suit- able industries and occupations for the candidate. Multiple reports are available on this test which can be customized as needed.
The test is available in different versions with a variety of report options – each designed to meet a particular career guidance objective. OII is an innovative assessment which builds on RIASEC theory by assessing more differentiated occupational interests than most of RIASEC theory based tests. The test is used by individuals, educational institutes and corporates alike –
Career Counsellors and Coaches use this test to guide their clients towards greater happiness and success.
Large organizations use this test to do staffing and career planning for their employees.
Educational institutes and business schools use this test to guide their students on choosing a course / specialisation.
OII-Pro measures 12 core dimensions of occupational interest grouped into 6 general categories named as RIASEC - Realistic, Investigative, Artistic , Social, Enterprising and Conventional.
Realistic (R)
– Naturalistic
– Manual
Investigative (I)
– Intellectual
– Technical
Artistic (A)
– Aesthetic
– Eloquent
Social (S)
– Developing
– Helping
Enterprising (E)
– Persuading
– Leading
Conventional (C)
– Organizing
– Following
Quick facts about OII-Pro
20-25 minutes


72 questions


Level-2 qualification in occupational test use


Students, Newly Hired, and Mid-Career Professionalslevel


All job roles
Get a free trial of this test
To see yourself how this can give immense insights about ideal career path.
Setup a free trial for me